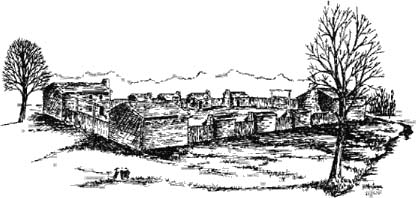 Logan's Fort set on a slight elevation about fifty yards west of the smaller spring at St. Asaph. The fort was 90 X 150 feet and was constructed of logs. Gates were located at each end and were raised and lowered by leather thongs. The main gate faced east.
Along the south side, two blockhouses were built, one on each end, with three cabins between, which were occupied by Wm. Menniffee, Wm. Whitley and the James Mason families. On the north side, only one blockhouse was built. It was on the northwest corner. There were four cabins adjoining occupied by George Clark, Benjamin Logan, Benjamin Pettit and Samuel Coburn.
A conventional cabin occupied the northeast corner. This was the only corner of the fort without a blockhouse. The cabin that Logan built in 1775 was a part of the fort. The fort's water came from a spring that lay 50 yards to the east. A tunnel was dug from inside the southeastern blockhouse to the springhouse, which covered the spring. The tunnel was four feet deep and three feet wide. A person could obtain water, undetected, in time of siege by the Indians.
The land about the fort had been cleared of all trees and cane so the Indians would not have shooting cover to approach the fort. The ridge to the south of St. Asaph's Branch was not cleared and most of the firing of Indian guns came from here. The distance, 200 to 250 yards, was too great, and the shot and arrows had little effect.
At the foot of the hill, on St. Asaph's Branch, just below the fort, the settlers maintained a gristmill. In all probability, this was the first mill built in Kentucky. During his first visit to the fort in late April of 1778, Daniel Trabue spoke of eating bread - something that could not be obtained at Fort Boonesborough.
Capt. Briggs drew a sketch of Logan's Fort for Lyman Draper. He stated that Buffalo Spring lay about 200 yards south of the fort and a small branch descended from it with an abrupt high woody bluff above. He also confirmed the subterranean passage that led to the fort spring and that another row of cabins was built and the fort enlarged in 1778.